Latest posts by Dr. Erika Krumbeck
(see all)
Good news for you who are in the Missoula, Montana area!  Together with Meadowsweet Herbs and Walking Stick Toys we are having a wonderful Kids event starting next Wednesday May 29th through Saturday June 1st.  Meadowsweet Herbs and Walking Stick Toys will be having sales on kids products, in addition to lots of fun events.
On Saturday, June 1st at 11:30 a.m. I will be having a talk entitled "Natural Remedies for ADHD." Does your child have a diagnosis of ADHD? I will discuss some factors that commonly trigger ADHD-like symptoms, as well as talk about how ADHD is commonly misdiagnosed. I highly encourage you to attend. This information is life-changing.
In celebration of our upcoming event I have compiled a list of my favorite herbs for children.  You can find these at Meadowsweet Herbs as well!
Chamomile, Matricaria recutita

The quintessential "children's" herb.  Chamomile is an unusual herb in that it is slightly sweet and mildly bitter at the same time.  The "bitter" component in chamomile (and in any other plant) stimulates the digestive system to increase stomach acid and pancreatic secretions.  Chamomile is unusual in that it is also has "carminative" constituents to help slow and calm the digestive tract.  This makes it an ideal herb for infant colic or for anyone with indigestion, gas and bloating.  It is also anti-inflammatory and calming – perfect for children with mild to moderate fevers.
Safety: in tea form it is completely safe for children of all ages, even infants.* Do not use if you or your child has an allergy to coneflowers.
Dose: Use 1 tbs/cup boiling water, cover and steep for 15 minutes.  Strain and let cool.  Children and adults can drink one cup three times per day. (Use smaller cups for smaller tummies!)  For infants with colic give 1 teaspoon of cooled tea at a time.
Lemon balm, Melissa officinalis

An excellent, delicious, "minty" herb that tastes wonderful as a tea or glycerite.  Lemon balm is also a carminative and anti-inflammatory herb, like chamomile, but has the added benefit of being antiviral. It is a moderate "nervine," a herb that acts in the central nervous system to relieve anxiety, nervousness and insomnia.  This is a classic children's herb for cold sores, viral tummy infections and colds.  Lemon balm tea is a favorite in our house, also known as "happy tea" because it just seems to make life a little easier.
Safety: also completely safe.*
Dose: use as a tea just like chamomile.
Calendula, Calendula officinalis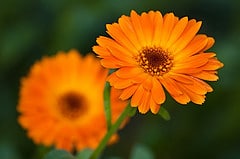 Calendula is one of our best vulnerary, or wound-healing herbs.  It seems to speed wound healing by promoting the formation of granulation tissue (the "pre-skin" of a healing wound).  It also has wonderful anti-inflammatory, anti-bacterial and anti-fungal properties, which makes Calendula ointment ideal for diaper rashes, nasty scrapes, burns and for post-surgical wound-care.  Calendula is also a "lymphogogue" which helps drain swollen lymph nodes.
Safety: topically it is completely safe for scrapes, small cuts and burns with the skin intact.*  See a physician for use on post-surgical wounds or large areas of open skin.  Calendula can also be used internally, but it is probably best to use Calendula tincture internally under the supervision of a naturopathic physician or very experienced herbalist.
Dose: spread Calendula ointment or cream over the affected area several times per day.
Elderberry, Sambucus nigra

Elderberry is probably the most delicious medicine we have for kids.  It makes a wonderful tasting syrup or glycerite, and since it is really a food it is incredibly safe.  Elderberry is one of our most potent anti-viral herbs.  It has excellent research showing that it inhibits viruses from entering cells – particularly the flu virus!  I consider Elderberry to be a very safe, effective alternative to Tamiflu (which has never been shown to be efficacious, by the way).
Safety: very safe.* Elderberry is even considered safe in pregnancy and lactation (though you should always use caution and follow the dose recommendations.) May cause tummy aches if taken too frequently.
Dose: follow the dosing instructions on the bottle of elderberry syrups.  Most have different concentrations of extract, so each brand has its own appropriate dose.
Mullein, Verbascum thapsus

One of Dr. K's favorite herbs for coughs and mucus in children (or adults for that matter).  Mullein tincture or glycerite is a nice mild respiratory herb that seems to soothe inflamed tissue while simultaneously loosening phlegm.  It is excellent for the lingering cough that can happen after a cold or flu.  I used it with great effect after the H1N1 post-flu chronic cough.  It is mild enough to not aggravate the sensitive lung tissue, unlike some other respiratory herbs.
Safety: also very safe.  There is some controversy over whether it is safe in infants – I feel very safe using it in any child who spends most of his/her day upright.  In other words, children over 6 months of age who are sitting are good candidates for this herb.  In "horizontal" children there is a concern that thinning mucus could just make the infection spread deeper into the lungs.  I have never seen this happen, but perhaps it is wise to be cautious.
Dose: The dose for this herb definitely depends on the concentration of the herb and the size of the adult or child.  For adults you can take up to 1 teaspoon of tincture or glycerite every 2-3 hours.  For children you need to adjust for body size, or check with your herbalist or naturopathic doctor.  It is KEY to take this herb very frequently to see good effects.
–
* Always, ALWAYS check with your doctor first! Remember that medicine is not one-size-fits-all, and that there is always the 1 in a 1,000 child for whom certain types of herbal medicine is contraindicated.
photo credit: LJWDevon via photopin cc
photo credit: Images by John 'K' via photopin cc
photo credit: quinn.anya via photopin cc
photo credit: dorena-wm via photopin cc